Av: Simon Tondnevis
Lack the motivation to exercise? Cannot afford the gym membership fee? Quarantined at home due to Covid-19?
FitPal is your new companion in reaching your fitness goals, by introducing a variety of gym exercises into your home with a compact and accessible design.
The smart resistance band is developed with self-reflection, guidance, and a community in mind. With the usage of sensors and a built-in display (or through the FitPal App) every exercise becomes personalized.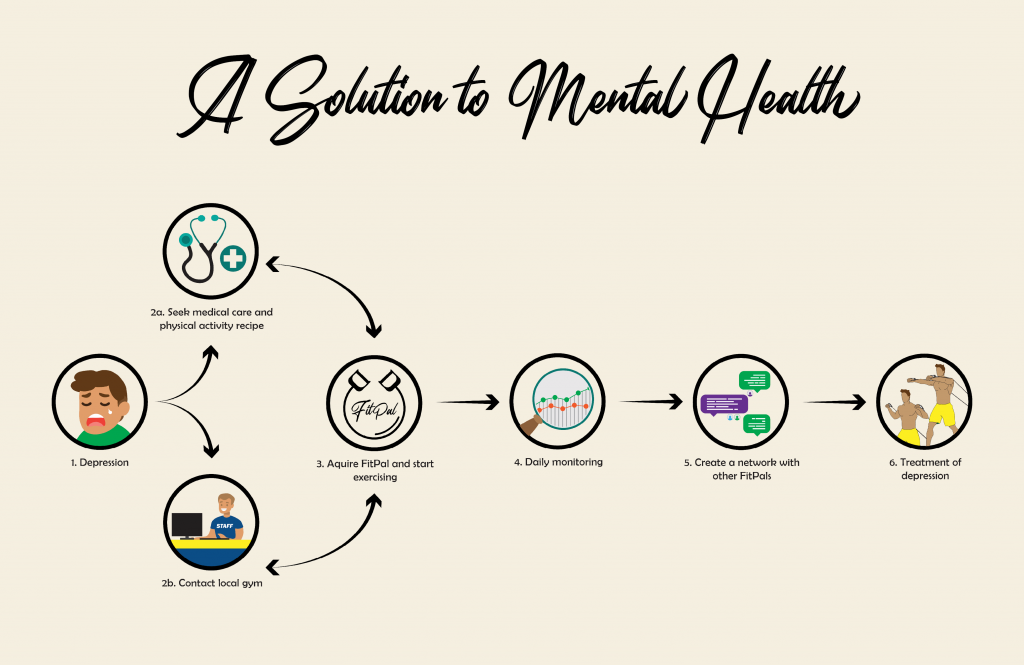 The impact that exercise have on our physical ability can seem obvious, which can cause us to neglect the beneficial effect is has on our mental health.
FitPal streamlines the treatment of depression through exercise, instead of therapy and medicine that bring nasty side effects to both health and society. The journey to strengthen your mental health starts with FitPal, where the focus is to increase motivation. The customer journey illustrates what that treatment could look like.
Inspired by the cable machine, FitPal replaces weights with resistance through an elastic band which results in a compact and portable design.
The built-in sensors detect tension and keep track of your movements while simultaneously giving you instant feedback. Exercise data can then be viewed by the user, community, or a training advisor to conduct better self-reflection, peer pressure and follow-ups from treatment facilities.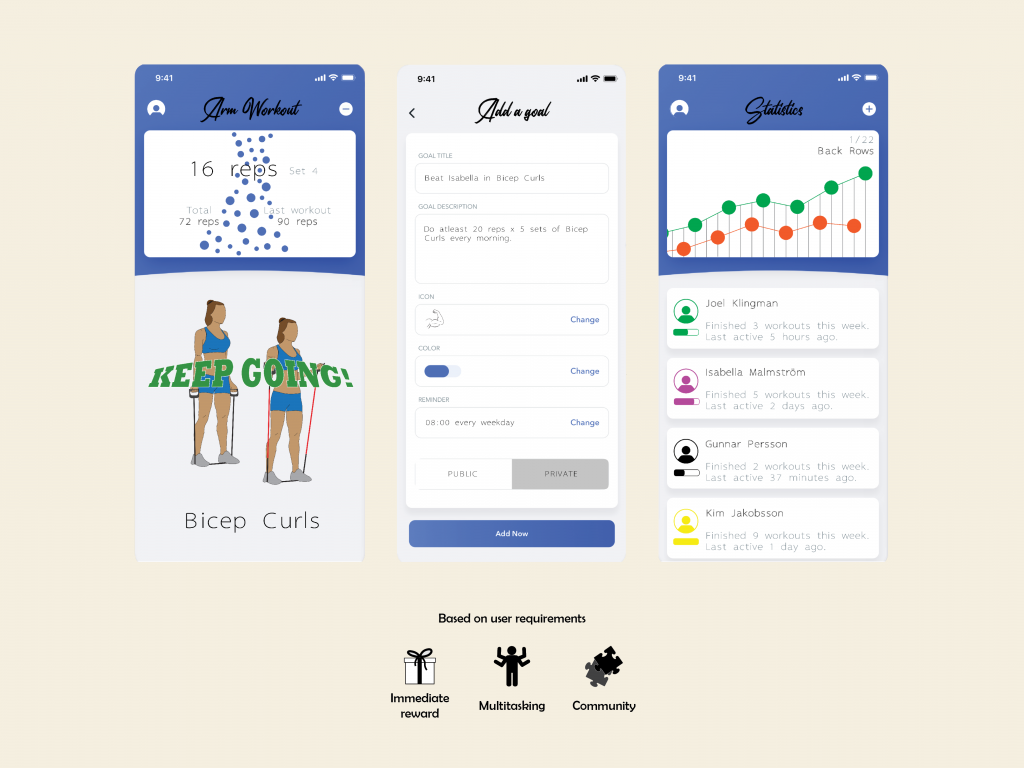 By using the FitPal app, your workout statistics can be viewed, analyzed, and evaluated by yourself or a third party. The community can also collaborate to reach their fitness goals together. You can even challenge the community, earning points and rewards that can be used for discounts at gyms and on fitness related products giving the user a subsidy.
During each exercise, the app is used as a tool in the background giving you feedback on form and timing in the form of animations. Communication between FitPal and the app is always present through Bluetooth Low Energy (BLE).
To make FitPal independent from the app, a display is built into the right handle, giving instant feedback and information on your current exercise. Reps, sets, time, execution, and more is available as a more limited, easy to access option alongside the FitPal app.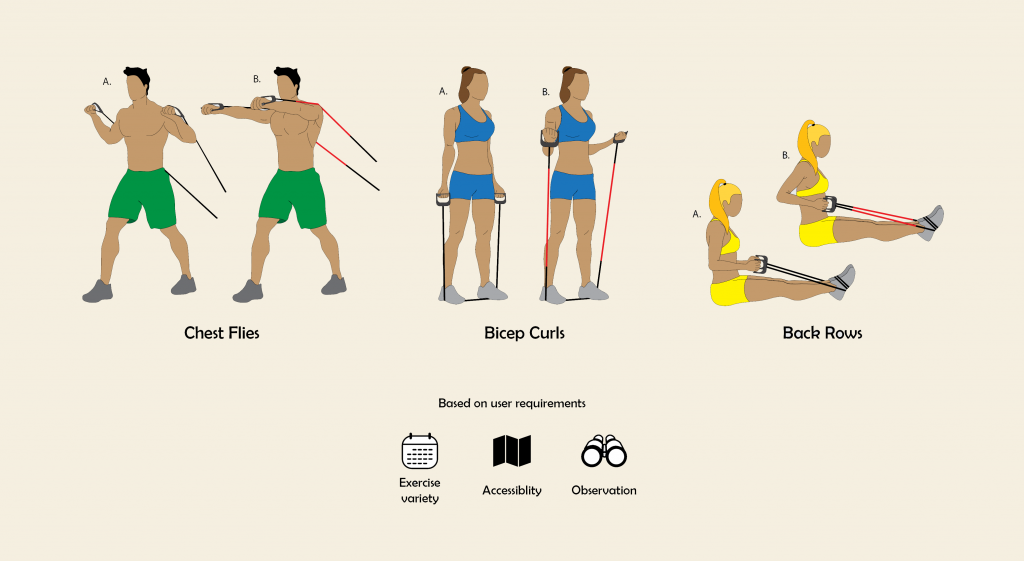 Illustrations on how to perform different exercises with FitPal are introduced in the box, taking out the guesswork and confusion regarding gym movements.
Finished training programs with these illustrations are included with in-depth instructions for the inexperienced. The illustrations and programs will also be available within the FitPal app.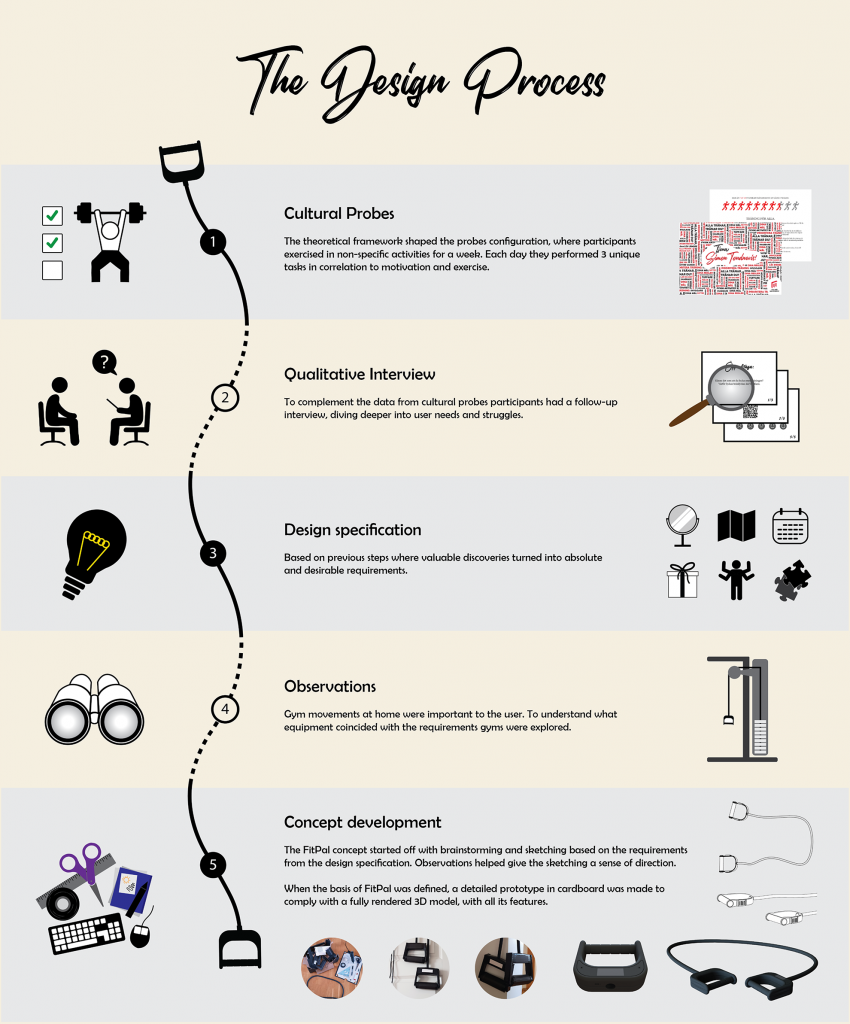 Av: Simon Tondnevis
Mail: simon.tondnevis@hotmail.com
Handledare: Helena Ondrus